I just redid my makeup drawers. I tried an unusual method for DIYing the organizers, and it turned out so well that it inspired me to share it with you! I'll also explain how I organize my stuff so I can find it. Organizing is personal, but maybe you'll find some ideas that work for you.
I built my vanity a couple of years ago and still use the same one. Here's a picture: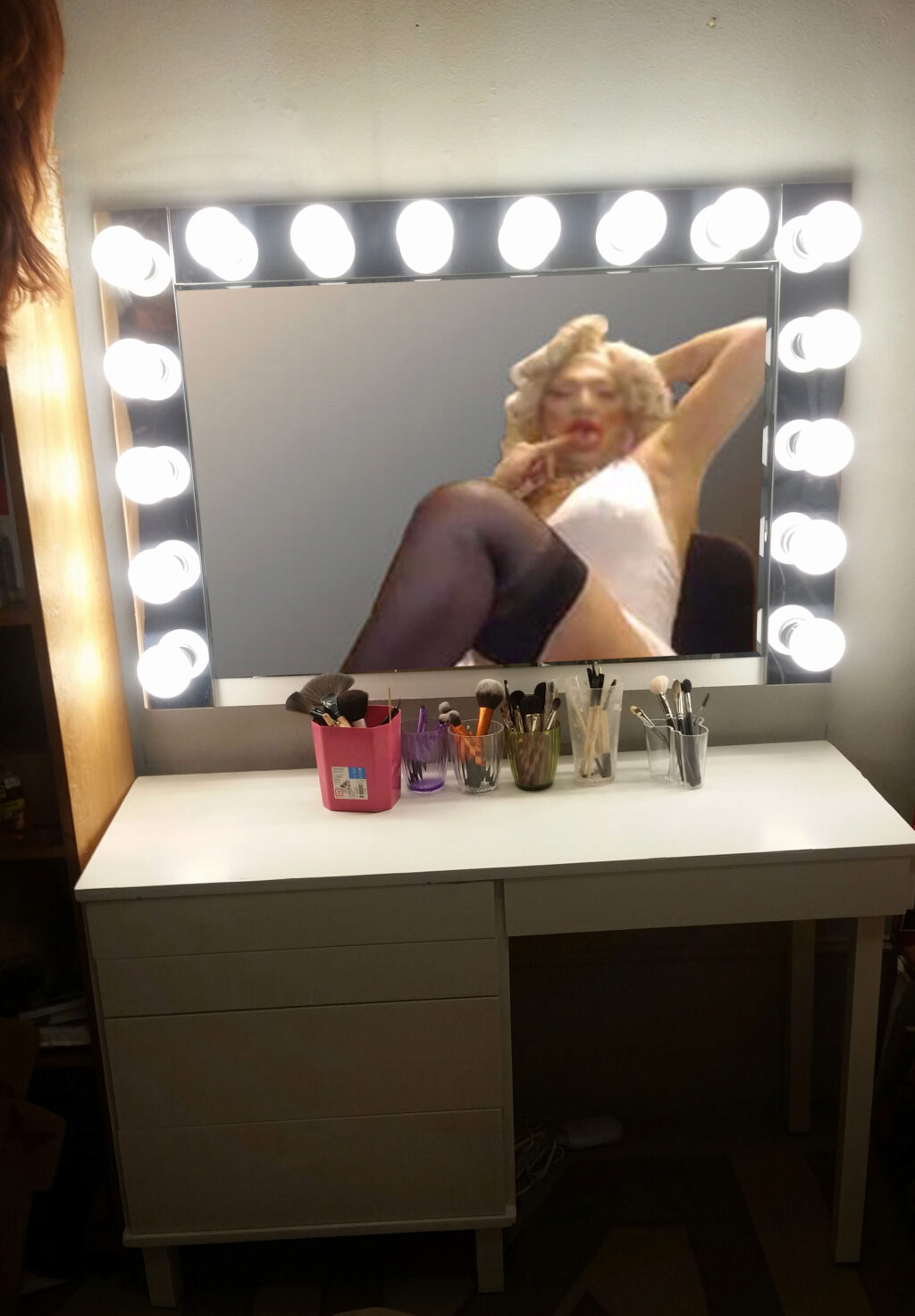 I give instructions for building one of these in the previous article. The desk was a rescue desk from the street, and those are the drawers I'll be organizing today. But first, allow me to explain why commercial drawer organizations can't ever work.
The Problem with Commercial Drawer Organizers.
The problem with using a commercial drawer organizer is that your layout must conform to the organizer. Shouldn't it be the other way around? The variety of shapes and the personal nature of makeup make it impossible for anyone to design something that will work for most people. You can use smaller containers to hold your makeup. That's what I did, and it does work better than a one-size-fits-all organizer. But the separate boxes create wasted space, and you are still stuck with a fixed size and shape. Not everything fits inside those shapes, and the drawer becomes crowded when there is plenty of room.
All of the DIY "solutions" I've seen suffer from the same problem: you end up with a rectangular grid of boxes that you hope will work but never does.
The solution: Create your layout first, then DIY the organizer to fit your ideal design. Eat your heart out, Marie Kondo! And there's an easy and cost-effective way to do it: foam core board!
Foam Core Basics
Foam core (also called foam board) is fantastic stuff. It consists of a foamed center covered on both sides by paper. It is easy to cut with a sharp knife, and many ways to fasten the pieces together. For this project, I used a hot glue gun.
It is also inexpensive. You can find 20x30 foam core sheets for a dollar each. My total cost for this project, including the glue, was under $10. Of course, yours might be higher if you also need to purchase the tools, but they are not expensive. I estimate the most this would cost is $50.
People make amazing things out of foam core, including scenery for model railroads, props for video games, boxes, and models of buildings. The list is endless. Projects like these use tidier ways to attach foam core pieces than hot glue. But since our work is hiding in a drawer, we don't have to be so concerned with beauty. Hot glue is strong, and it sets quickly. I was able to finish four drawers in less than two hours. The fancier joining methods take a lot more time.
Cutting Foam Core
It's easy to cut foam core with a knife. Put a metal straight-edge along the line you want to cut. Hold it down firmly with one hand. Then take a very sharp x-acto knife (a number 11 blade works very well) and make a shallow cut. The cut should penetrate the paper and, perhaps, a bit of the foam. Then make a second, deeper cut. That should be enough to let you separate the board. If not, make a third cut (and consider switching out your blade). A sharp knife is crucial.
Making Corners and Curves
You can "score" foam core and bend it along the scored line to make a joint at any angle. Making several "scores" close together, you can bend the foam core around a curve if you need to.
Gluing
For this, use the hot glue gun and press. Hot glue is, well, it's hot. Be careful. Should you get some on your hand, I find the best procedure is to rub your fingers together quickly. In my experience, that will cool it off quicker than running for water. I've never had a burn or a blister from using hot glue.
To glue boards not mating perfectly, bevel one or both of the edges so they are flush.
Let's do this thing.
What you need:
Foam core boards (I used 20 x 30 x 3/8 inch).
A hot glue gun.
A sharp x-acto knife with extra blades. (I recommend #11 blades).
A metal straight-edge
A ruler.
A pencil.
Optional but nice to have:
A cutting mat.
A carpenter's square.
Just for fun, here's what the drawer looked like before we started: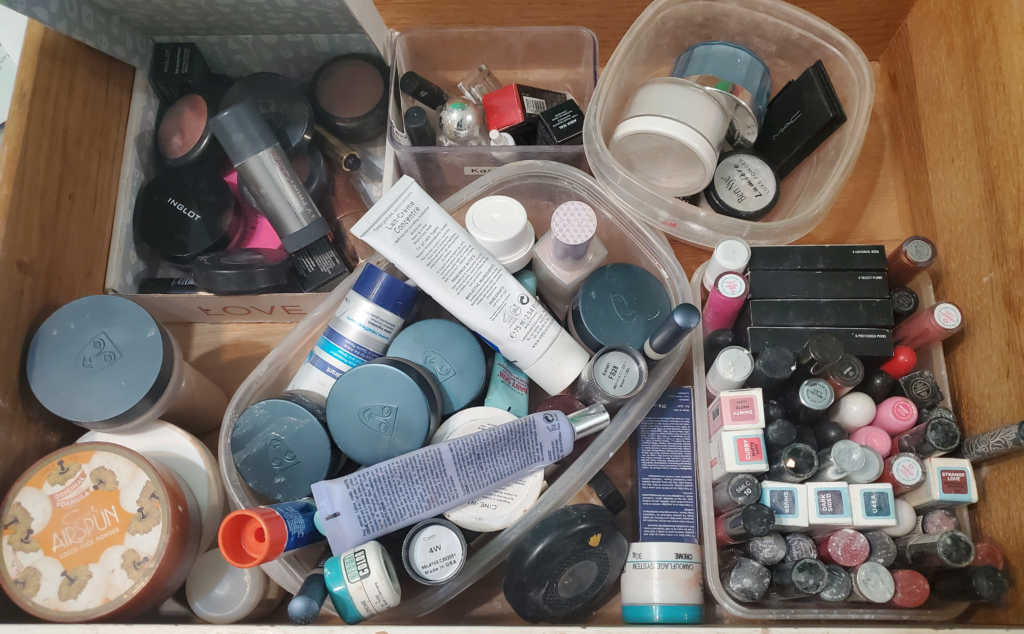 This is arranged the way I want, but it's a mess. It will be much nicer soon.
First, make an open box to fit inside the drawer. Don't assume that your drawer will be square (mine weren't). Remember to allow for the thickness of the vertical boards. If you are going to glue your sideboards to the outside edge of the bottom, you will have to make it 3/8-inch smaller all around.
I usually (but not always) cut the bottom piece to fit tightly against the drawer's sides. Glue the front and back pieces on top of the bottom, right along the edge. If you cut your sideboards to the same length as the drawer, they will now be too long to fit between the front and back parts! You have to reduce that length by the width of two pieces of foam core.
You can measure, but I usually stick two pieces of foam core together and adjust the sides' length before making the final cut. You should have something like this: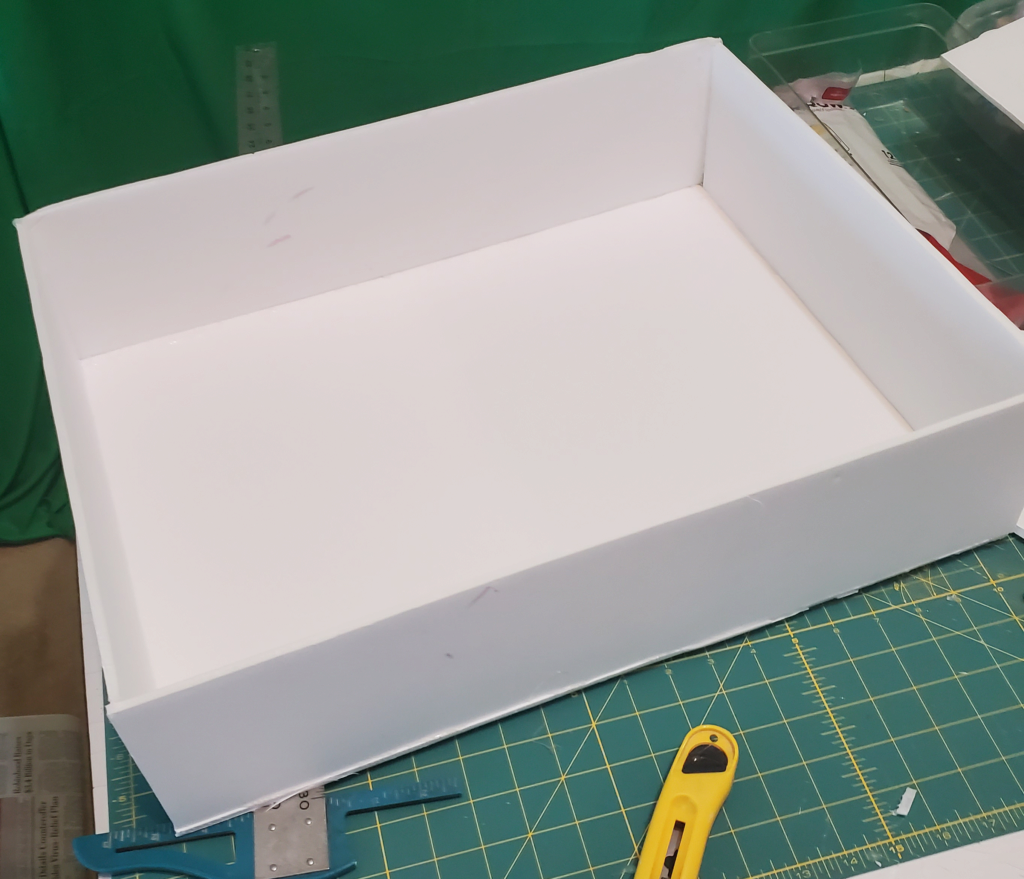 Making this is probably the most challenging part - and it's not that tough. I check the measurements by sticking the pieces in before I glue them. When you check the bottom part, don't push it down, or you'll have trouble getting it out. Just check each side, one at a time.
Once it's finished, stick it in the drawer. Ideally, the fit should be snug. If it's too big, the bottom could crease. That's do-over time. Otherwise, you are good to go!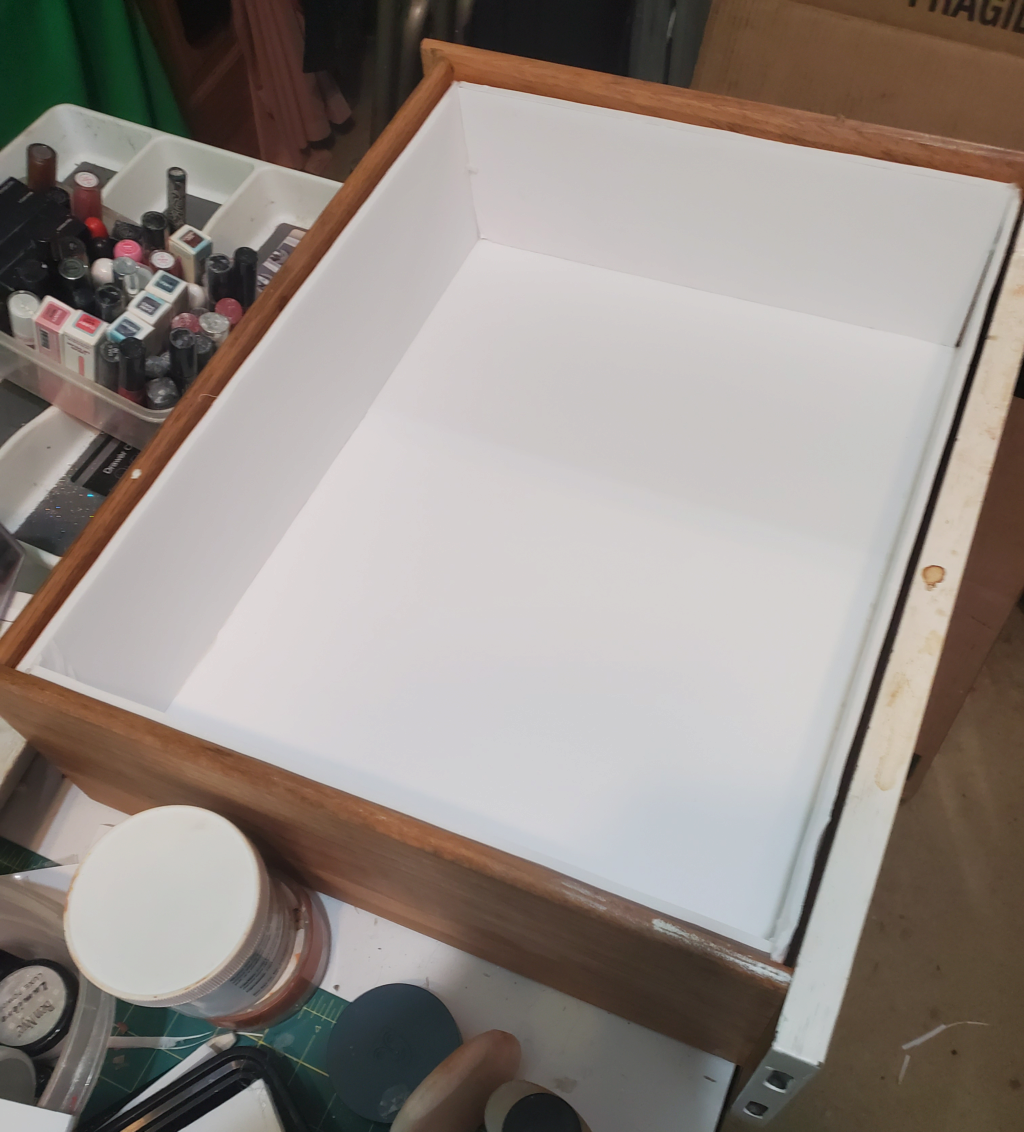 Layout
Since I'm organizing a drawer with known contents, I have an idea of the layout. After installing the foam core liner, I usually arrange the contents on the liner and install the dividers. Unfortunately, that wasn't going to work with this drawer. I wanted the lipsticks to be vertical, but they weren't stable enough to stand up independently. Not a big deal. I just did a section at a time.
I arranged the first lipsticks and put up a divider. Then I added a second grouping of lipsticks: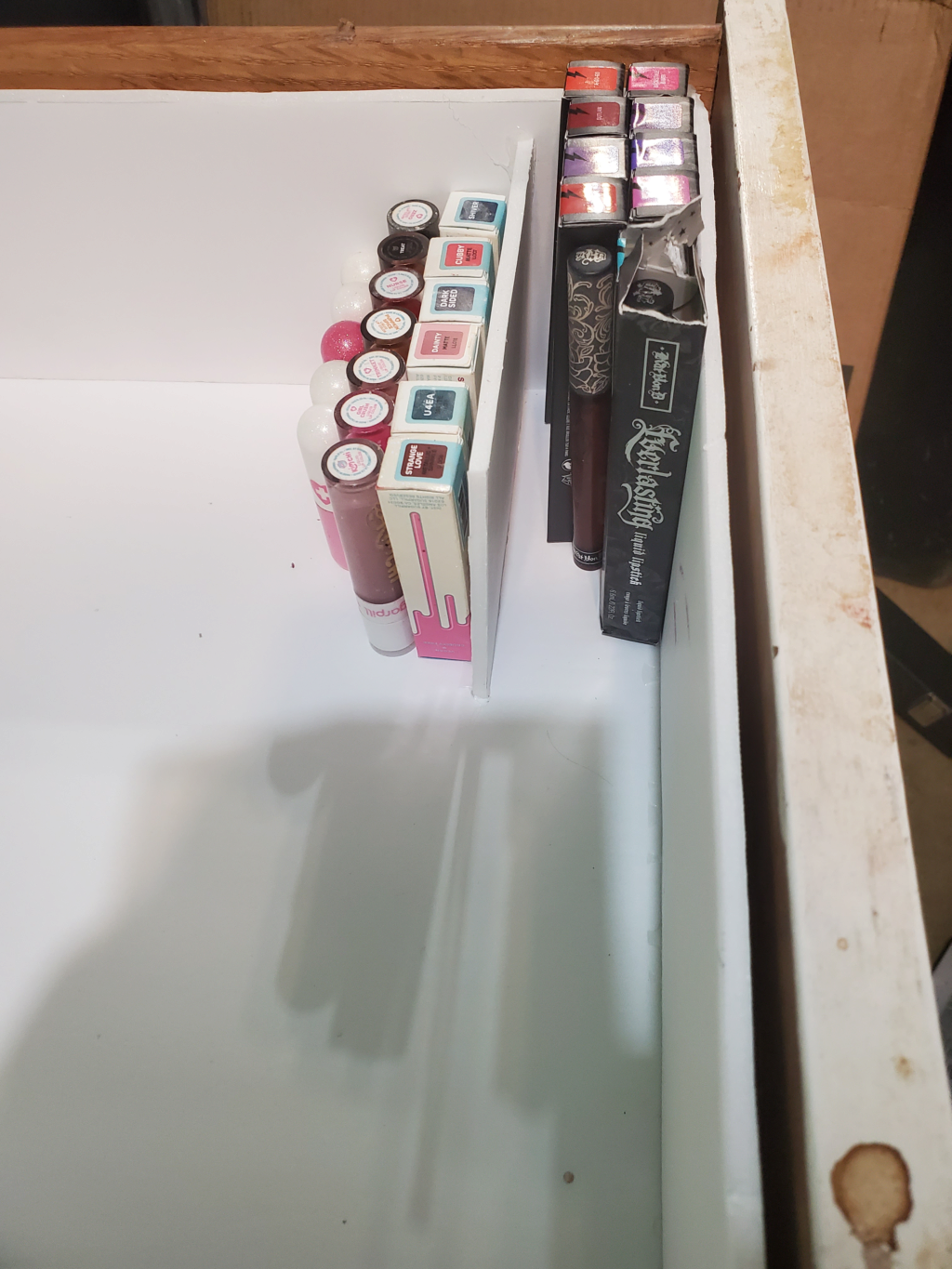 I just kept going until the section was done. I ended up with a small storage place at the back: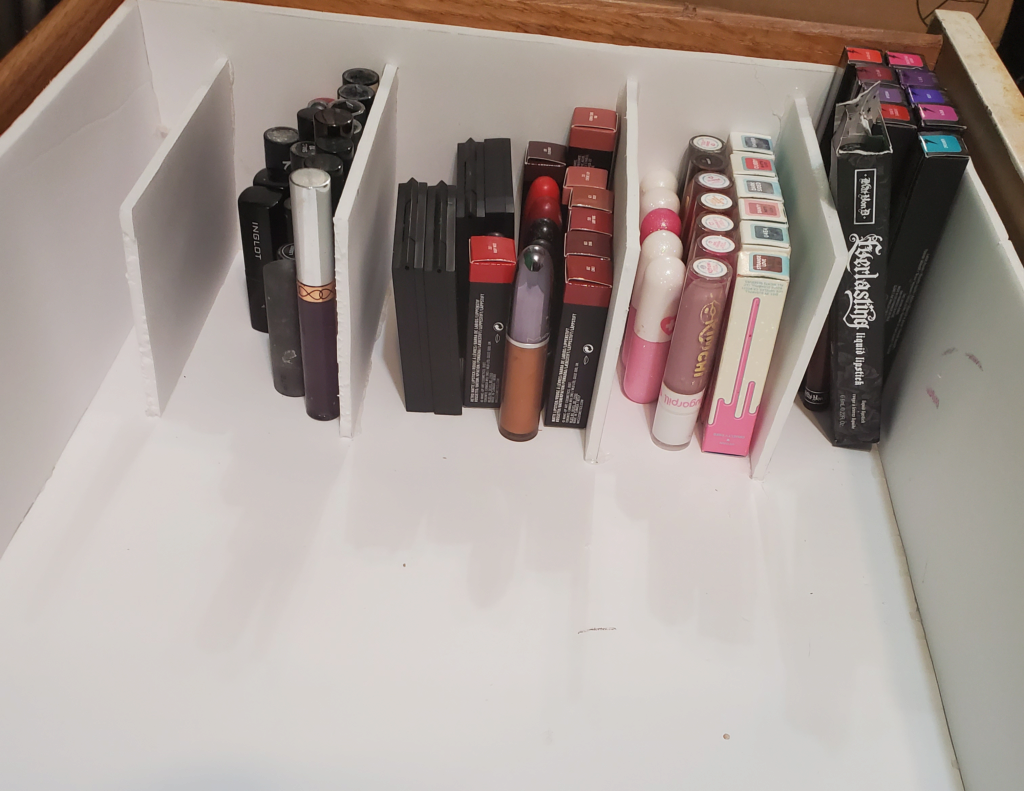 I found a use for it later: storing spare cosmetics!
Then, I used a longer length of foam core to close off the open side: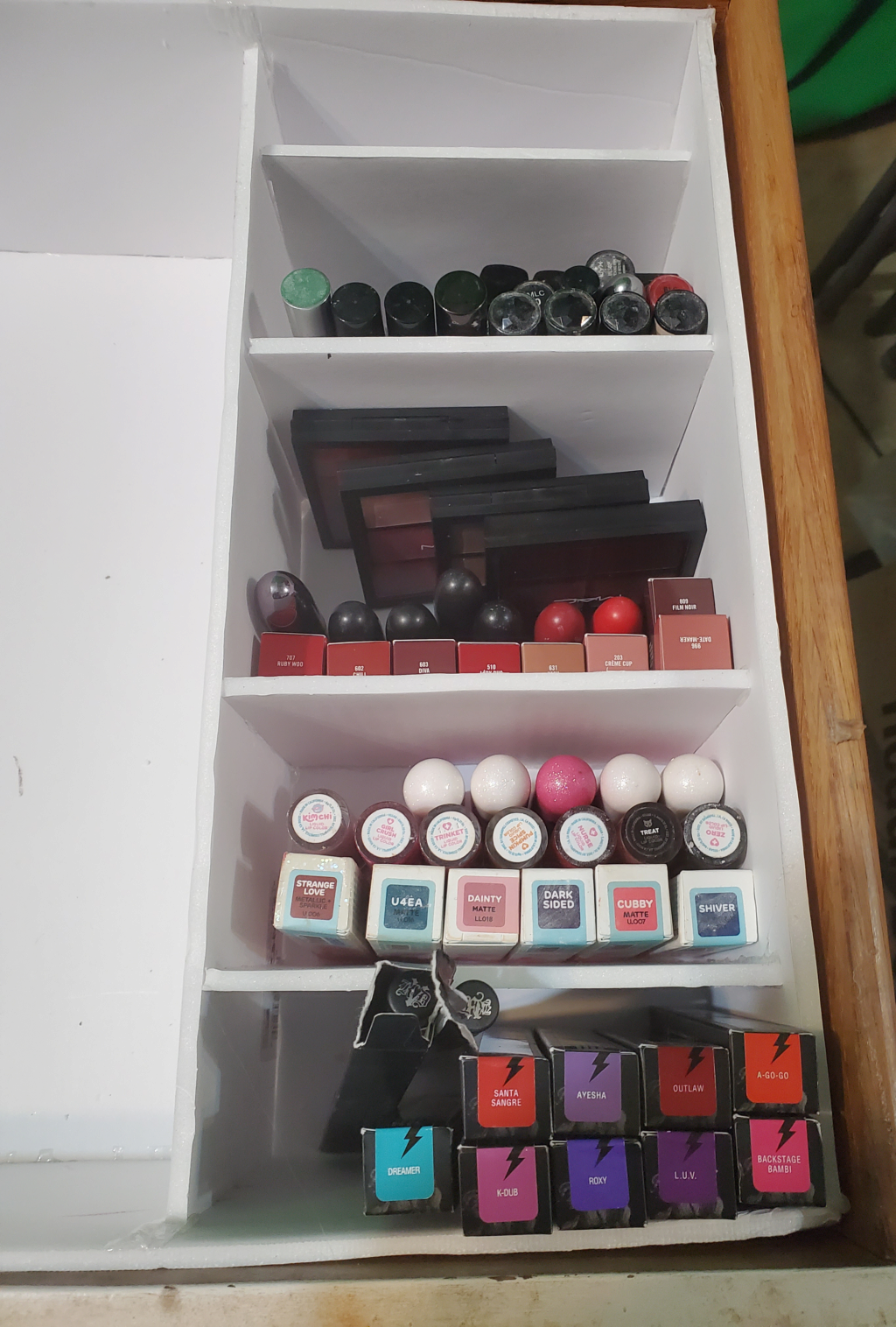 After making the initial box liner, I rarely find it necessary to use a ruler. I decide how high the dividers should be (I like them slightly lower than the edges of the liner). Then I eyeball pretty much everything. If I need to measure anything, I use a scrap piece of foam core. Place it in the drawer and draw lines on it to mark the desired size, then use that to cut out the foam piece you need. But to continue with the drawer:
Next up was all the stuff I use when I put on the foundation: primer, moisturizer, glue for blocking out eyebrows, and color-correcting wheels and jars. Sure, I could separate all this, but I always use it together, so why not keep it together?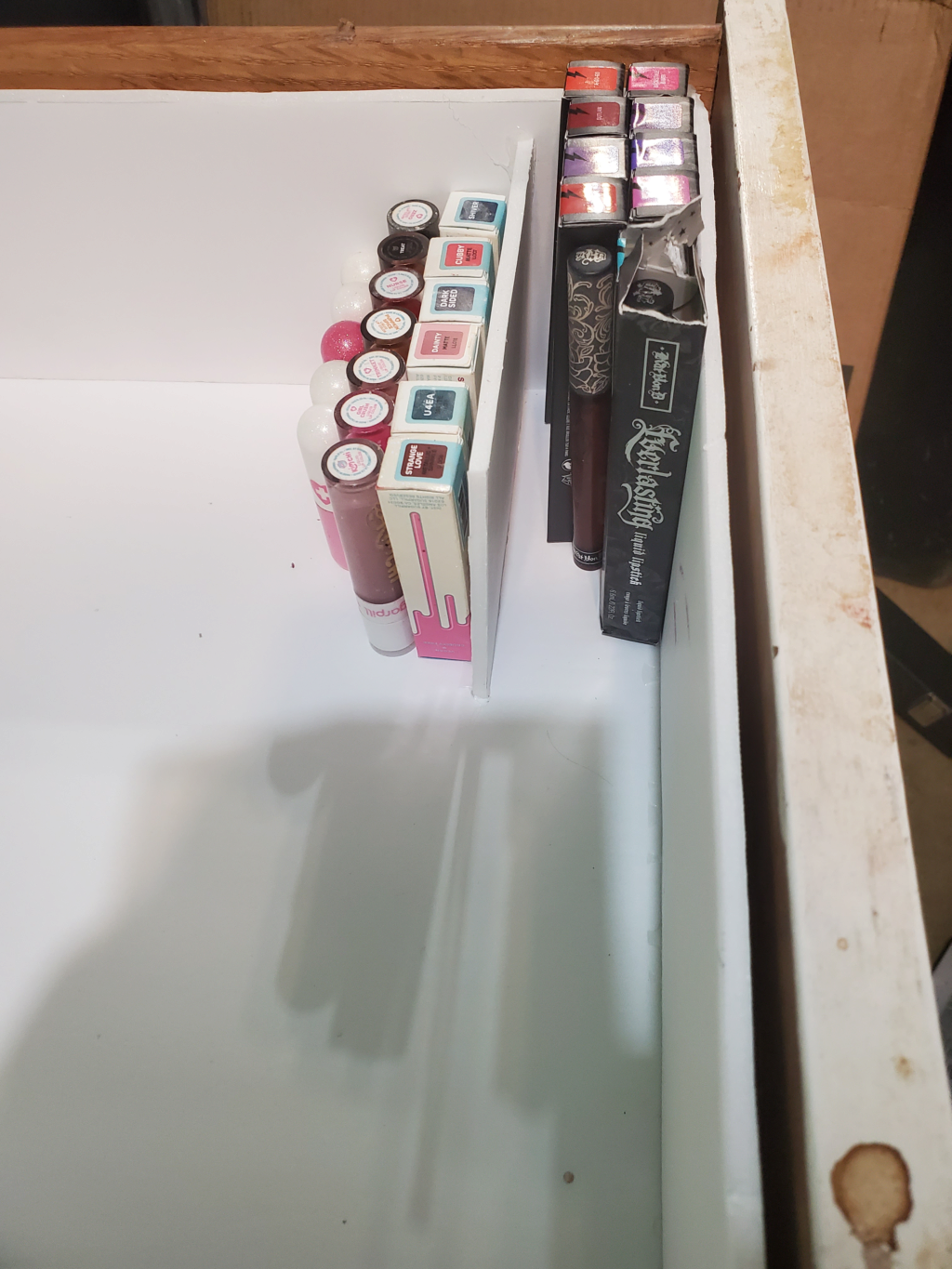 You'll never find a commercial organizer with compartments like this! The side for the foundation is one piece of foam core that I "creased" and then bent to make a corner. The rear edge hits the straight wall at an angle: I took my knife and beveled the end to make a good joint with the previous divider.
At this point, let's add the rest! Stick in the adhesives, highlighters, blush, and powders. Let's section off the adhesives: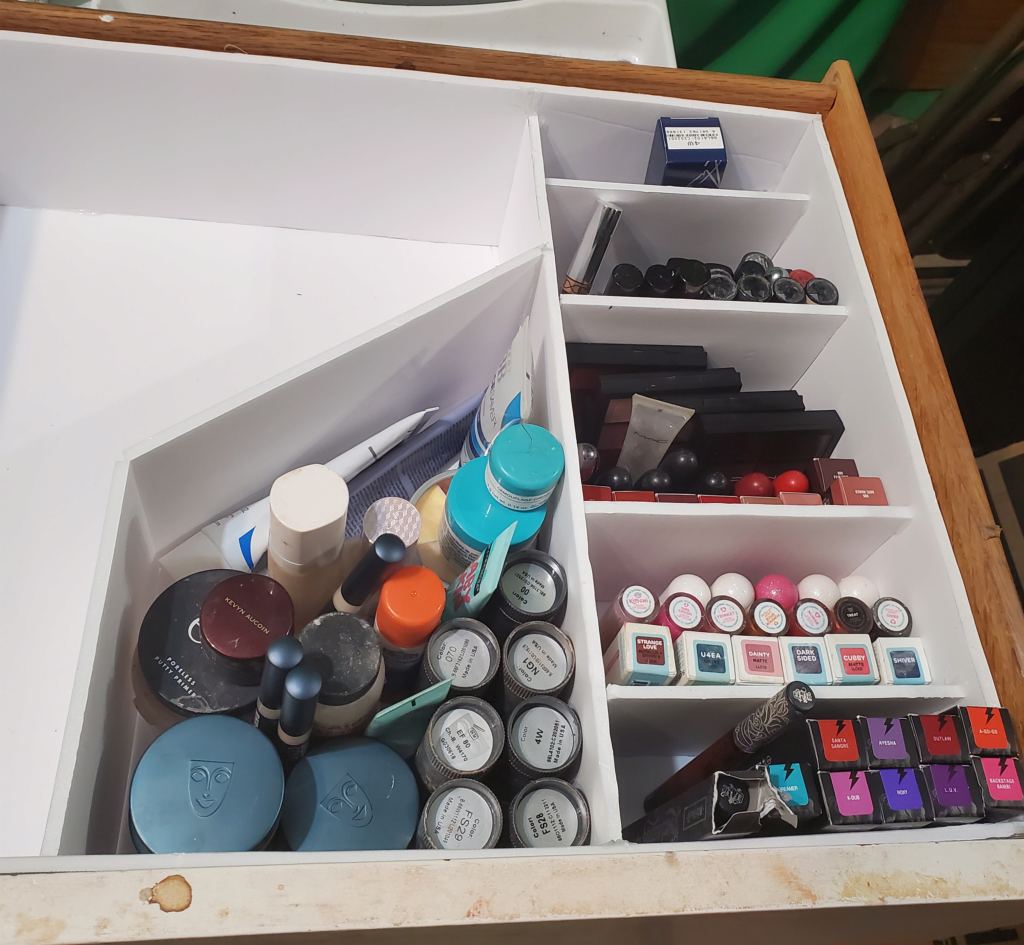 Now another wall to section off the highlighters: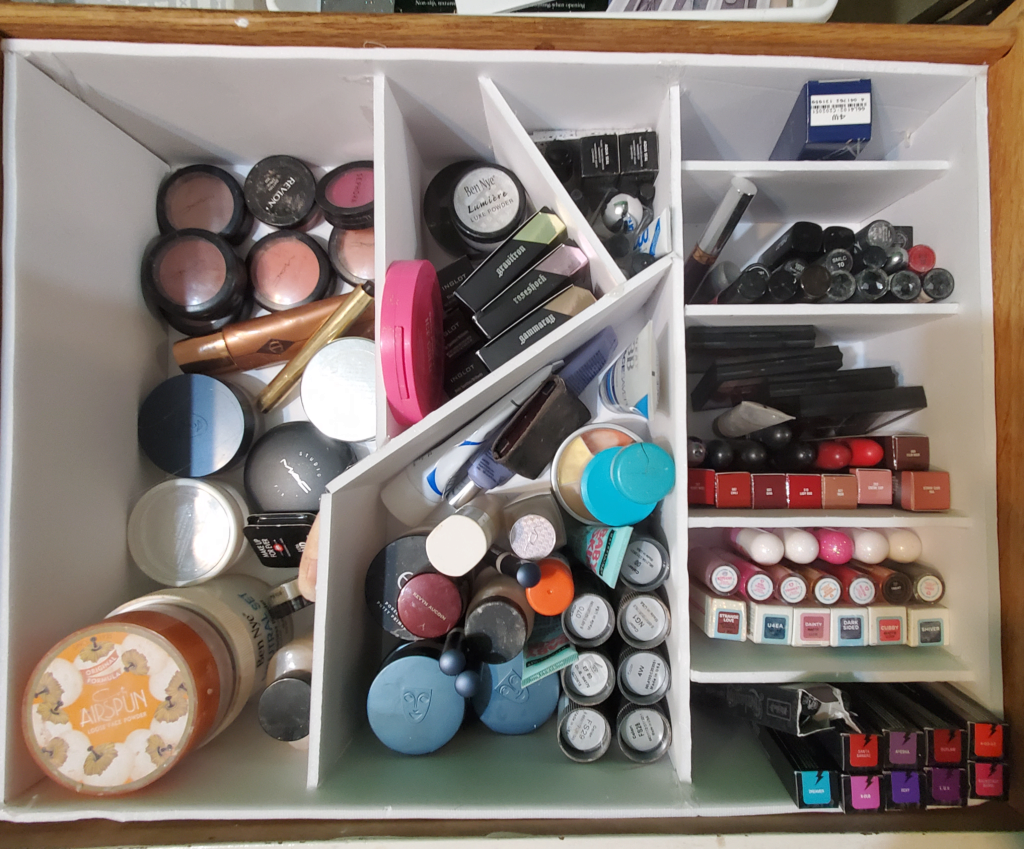 And I decided that was enough. I could have added another divider to separate the powders from the blushes, but this seemed like the right arrangement. One nice thing is that if I change my mind, I can always quickly add another divider

.
General Organization
Top of Vanity
While I'm here doing my best Marie Kondo impersonation, I might as well share how I arranged everything else. The big idea is to keep the stuff I use a lot within easy reach. So starting with the top of the vanity:
Disposable makeup sponges, cotton balls, and Q-tips:
I store these in plastic apothecary jars. You always use this stuff in a makeup session. This way, they are never out of reach, and the jars are inexpensive and pretty: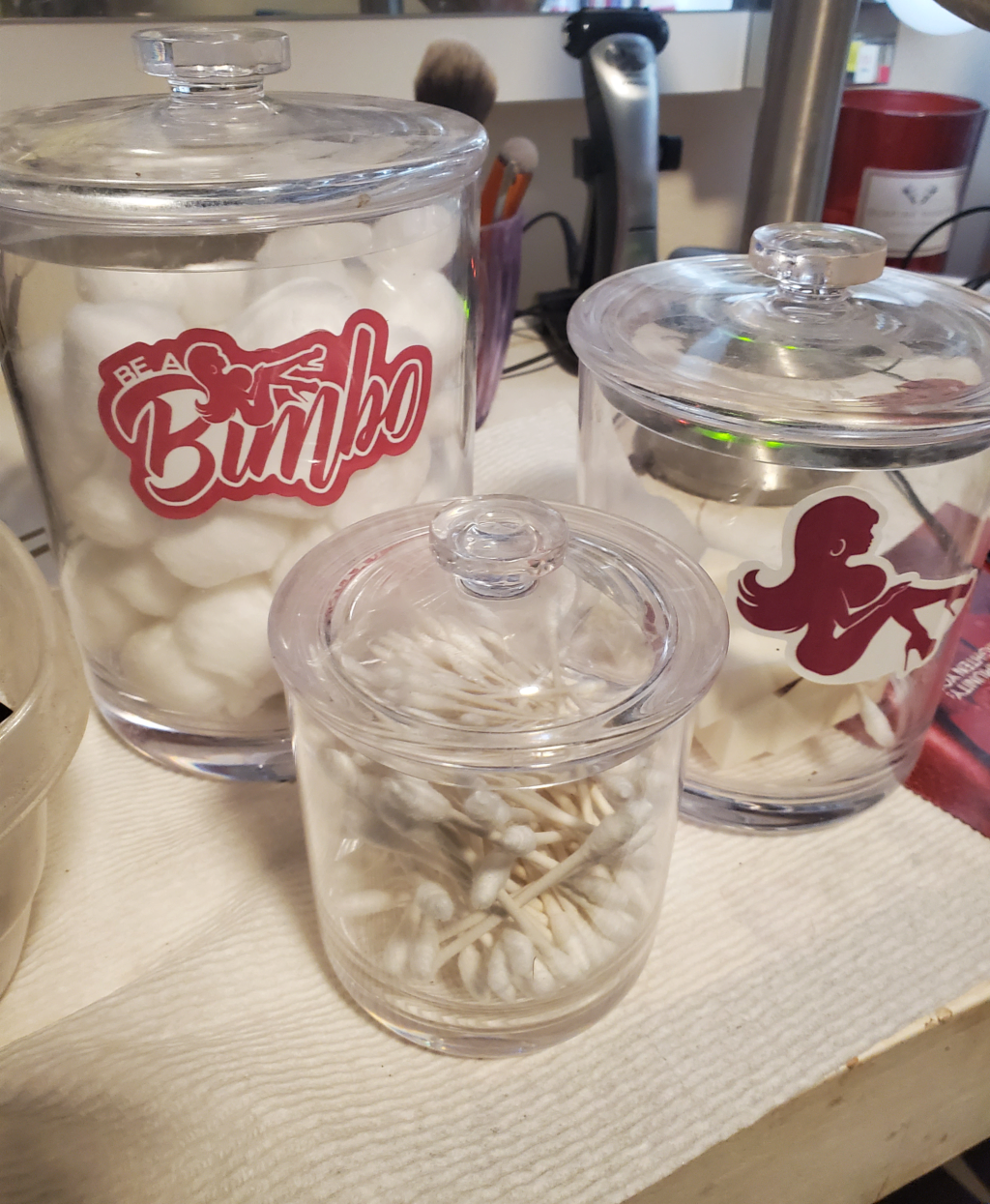 As you can see, I decorated them with some stickers I got from my friend Alicia Amyra, founder of Be a Bimbo. It's a great company; you should check it out if you like true Bimbo Fashion!
Brushes
My brush storage is currently in flux. I have graduated from dollar store glasses to Brushwork's Artist Easel Pro (here's my review). I still keep the crappy disposable brushes I use for things like glue in one big plastic container. The brushes I rely on the most - my ESUM brushes, Robert Jones' Brushes, and MAC brushes, are in the easel. I have reservations about the easel, however.
Beauty Blender
That sits in its cup, ready to go!
Palette knives and mixing palettes
I store these in one of the makeup brush cups.
Makeup Palettes
I use a magazine rack to store my makeup palettes. I don't know who first got this idea, but it's what everyone does. I use one that has sides. It's too easy for a klutz like me to knock all my palettes off with the ones with no sides. There are a million pictures of how to do this on the internet, so go for it.
Drawers
Since I repurposed a desk, I was stuck with the size of the drawers: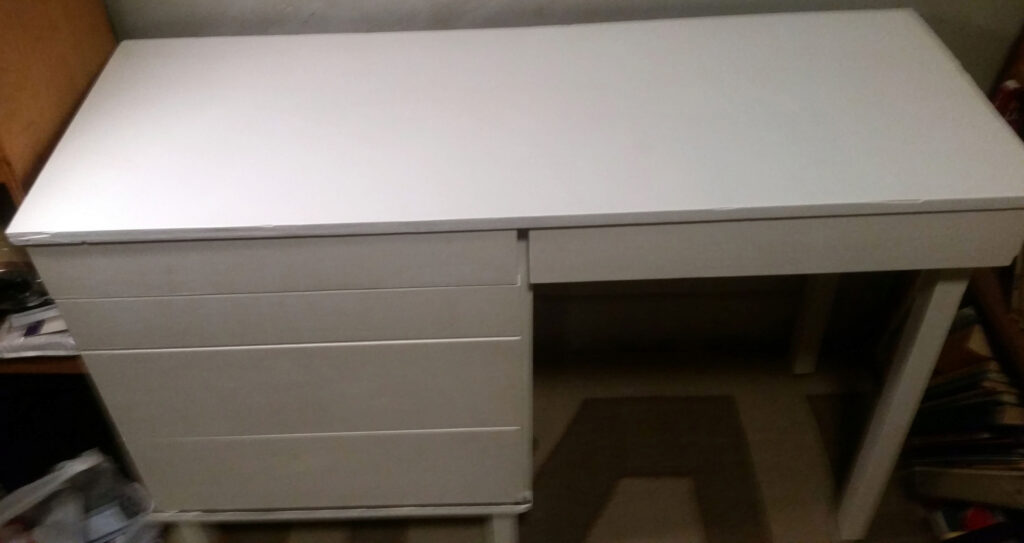 The top two are the same size and not very deep, the third one is deeper, and the bottom is pretty deep. Once again, the rule is: to keep the stuff you use a lot close to you.
Top drawer: Mostly eyeshadows
Front:
Single eyeshadows, both loosed and pressed.
Eye primers.
Eyeliners (like my beloved Inglot #77)
Mascara
Further back, I have stuff I love but don't use with every look. This It is mostly glitter but also includes some single cream makeup and stuff like Makeup Forever's "Colored Ink" and similar things from NYX: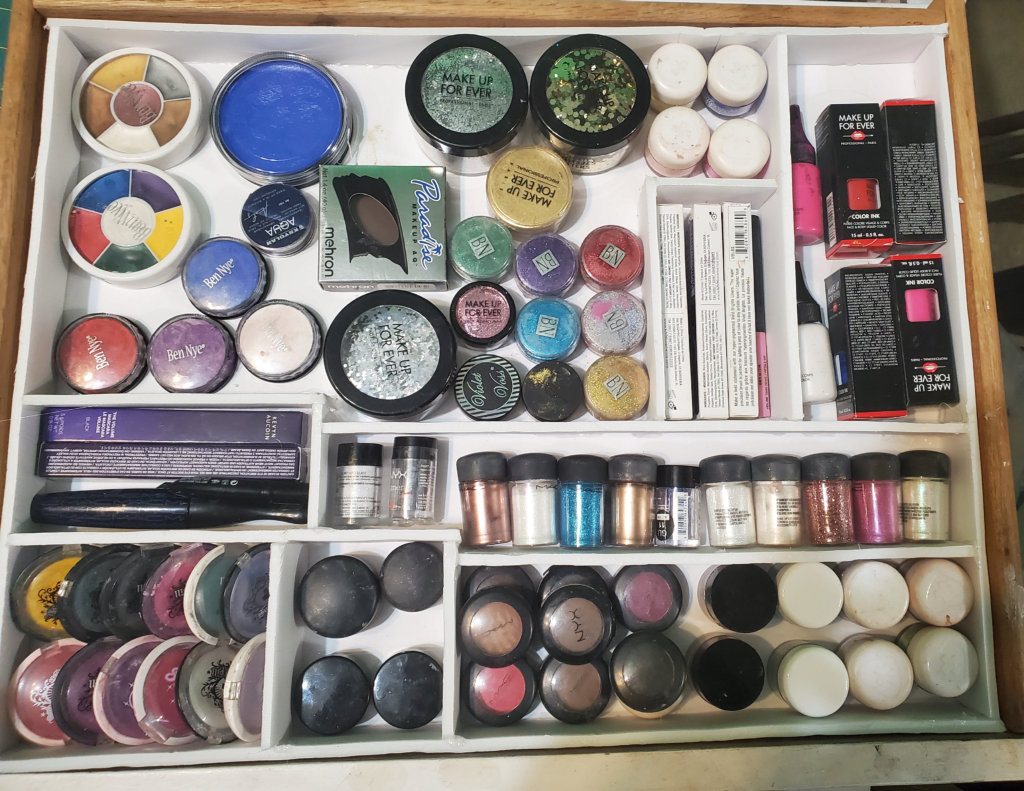 Second drawer: Mostly pencils
This is where I keep my makeup pencils (both lip and eye), felt tip liners, and a few similar products. I also keep my pencil sharpener in the front, right next to me, so I can grab it when needed.
You might think putting the lip liners in this drawer doesn't make sense because you only use those once or twice at the end when you do your lips. Maybe for you, but I often use lip liners to do my eyes and brows, so it's nice to have them handy.
After putting in my DIY dividers, I have enough room in this drawer to store unopened pencil and liner packages. These are either things I never want to run out of or things I haven't tried yet: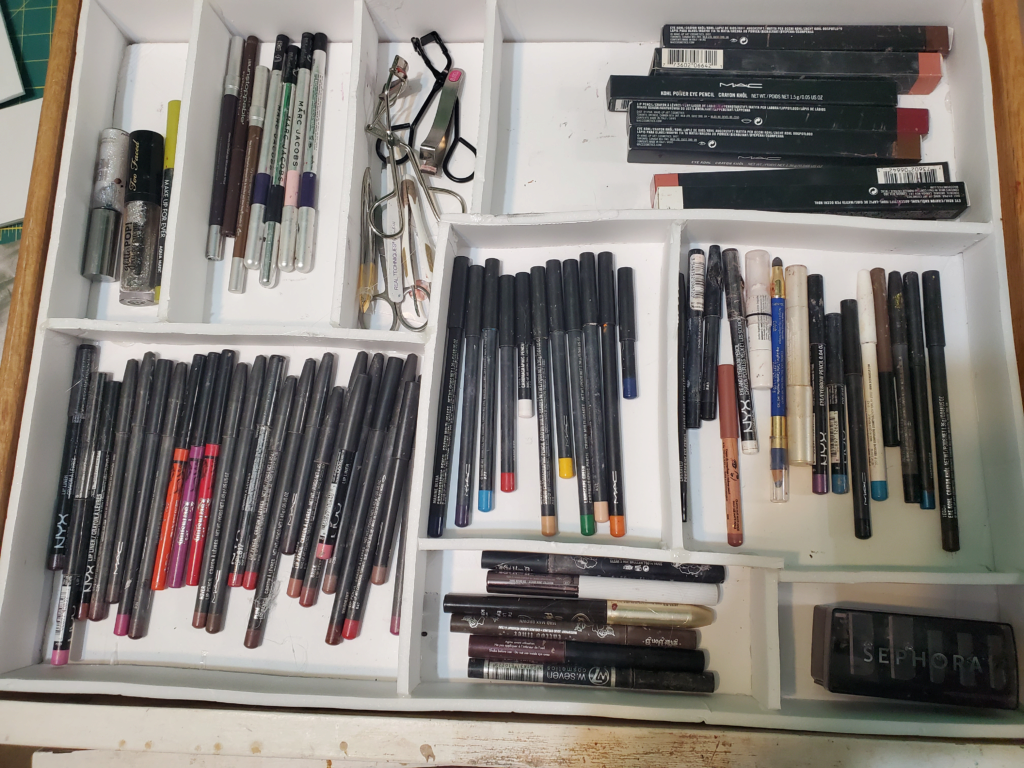 Third Drawer: Mostly Beginning and Ending Stuff
"Beginning stuff" means foundation, primer, contour. "Ending stuff" is lipstick, blush, and highlighter. I also have a small section for "facial adhesives." That's where I keep eyelash glue, glitter glue, and mixing liquids (like Inglot's Duraline). It might not belong in this drawer, but I don't use it often, so it's here. You've seen a picture of this one already!
Fourth Drawer: Everything else
This is where I keep facelift tapes and heavy-duty adhesives to use with the tapes and for attaching my breast forms and wigs.
I also keep sequins, jewels which I sometimes use to decorate faces for particular looks, duct tape and masking tape (useful for removing excess glitter and sometimes masking out areas of the face for design), scissors, and makeup capes to protect the client's clothes from getting makeup on them: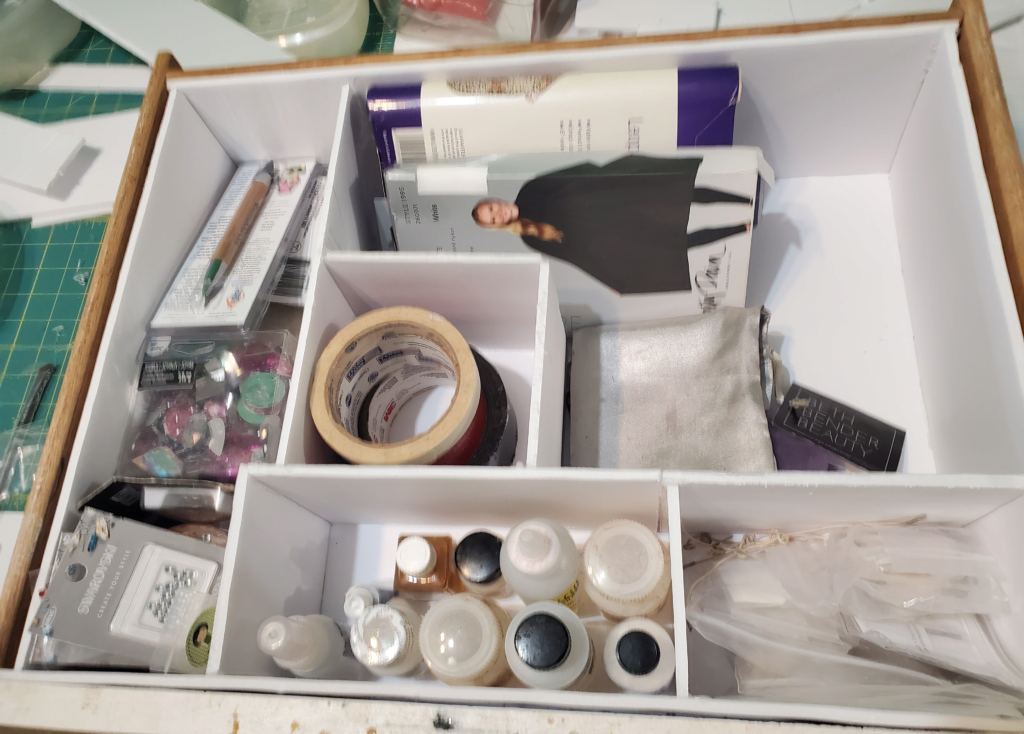 The Grab Bag Drawer. There's also a shallow desk drawer above the opening for your legs. I use this as convenient storage for wig caps, wig bands, a few Bobbie pins, earring fasteners, and bracelets. It might not be logical, but it's very convenient to have everything there at the beginning and end of a look to finish stuff up. No pic of this one because I didn't organize it, and it's a mess.
I'm happy about my DIY dividers and new organization! I hope I have inspired you to try it. Trust me, if I can do this, so can you! As always, questions, comments or anything friendly can be sent to me anytime!