At a Glance:
---
Over-all Rating:
Cost: $55.00
Manufacturer: The Brushworks
Purchased from: A local makeup store in my area.
---
The organizing binge continues.
I have been storing my makeup brushes in assorted pretty cups I got from dollar stores. But my brush collection has grown, and this solution has become unwieldy. In particular, my purchase of the entire set of ESUM brushes (here's my review) has made a new solution imperative.
One solution is to get larger cups. Another is to try an entirely different approach. I saw many positive reviews of the Brushworks "Artist Easel Pro." This product is a brush book that can transform itself into an easel! It is priced competitively with higher-end brush books, and the easel feature is appealing. So I decided to try it.
The Good News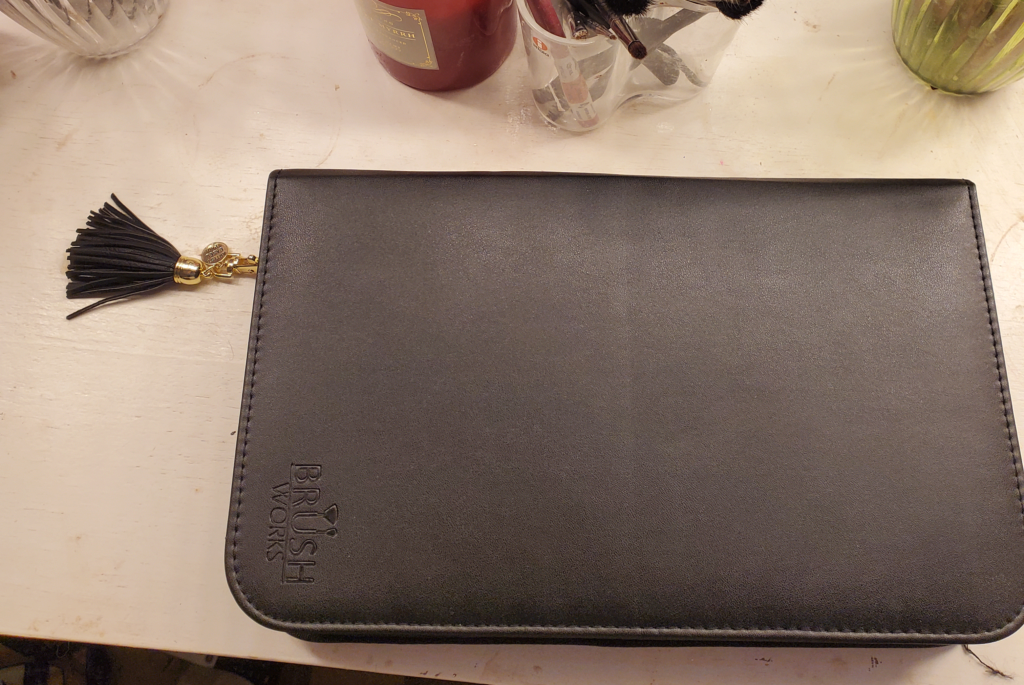 I was able to fit most of the brushes I wanted into the Artist Easel Pro, and as far as doubling as a book/easel, it works as advertised. When acting as a brush book, it has a vertical hinge, which you use to close the book. The standard perimeter zipper seals it.
It opens just like any other brush book you've ever seen. But if you look closely, you will notice four snaps, two on the left and two on the right. You use these to turn the book into an easel using the horizontal hinge!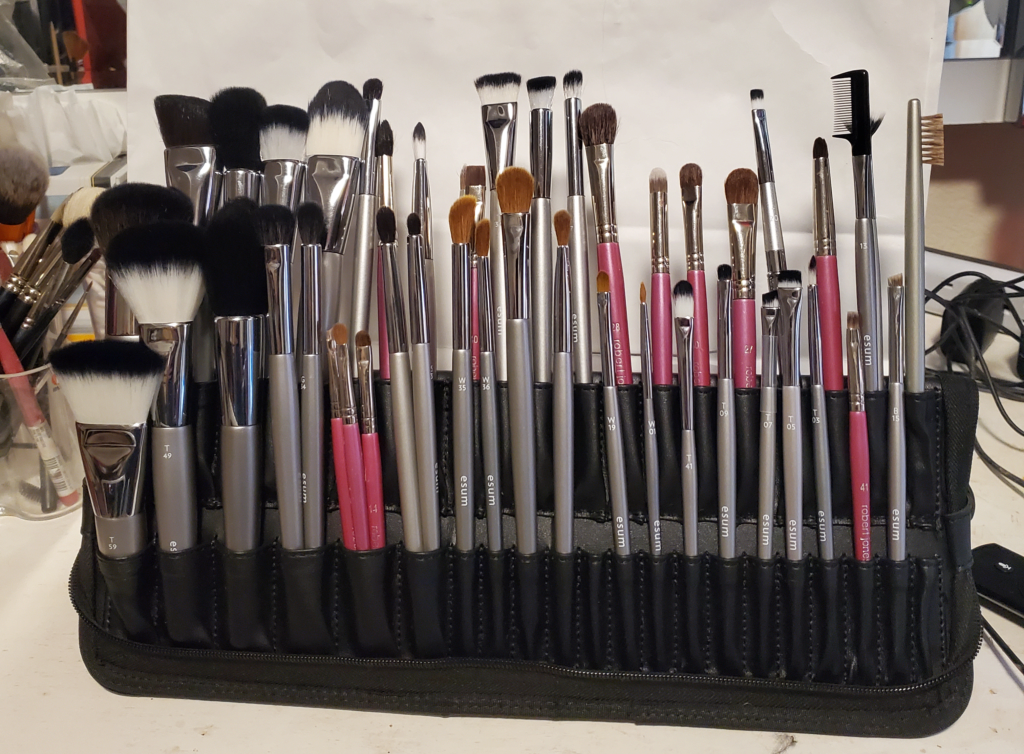 With the book opened flat, bend the book's top backward and down. Use the snaps to fasten the two ends together and have a V-shaped easel. I was impressed at how stable it is!
The Not So Good News
I would be thrilled with this product if only all my brushes fit. Instead of using elastic straps to secure the brushes, the Artist Easel Pro uses pre-sewn pockets. You are out of luck if you have a brush that's too big for any of the pockets. All my brushes are standard makeup brushes, but a few did not fit. Perhaps the pre-sewn pockets contribute to the easel's stability. Whatever the reason for making this design choice, it seems short-sighted to me not to provide for a few larger brush handles.
To make matters worse, unless placed in the bottom row, a few of my brushes are too long for the Artist Easel Pro in book mode, and it won't close with them inside! I was able to sort it out and close the book, but I would prefer to store my brushes by type and not by brush handle size. So it's pretty inconvenient.
Ordinarily, I would have returned the product, but that was not an option due to Covid-19. Instead, I used a seam ripper to open up a few pockets. After this, they were large enough to hold the big brushes. I reinforced the opened seams with a small piece of faux leather. I guess I can forget about any warranty service.
SUMMING IT UP
It's a clever idea, and it's well made. But I can't recommend it in its current configuration: what good is a brush organizer that can't hold all your brushes without some surgery? Hopefully, the manufacturer will address these problems in a future version.
I hope you enjoyed this. I am always interested in your thoughts. What do you like in brush storage/accessibility? Let me hear about it.