My Wig Mis-adventures
In this section, I hope to help you avoid the mistakes I made when I first started experimenting with wigs. My mistakes were so awful, and I was so ignorant about wigs, that I don't honestly know today if some of my mishaps were because of bad wigs or due to my total ignorance about how to take care of one.
I started my wig adventures by buying inexpensive cosplay wigs from Amazon. I would usually manage to get one or two wearings out of these wigs, after which point they became hopelessly tangled. I would try to comb them out, but either because the wigs were awful or because I didn't know what I was doing, it never worked. I followed the manufacturers directions, purchasing conditioners and detanglers, but none of these ever worked and I ended up throwing the wigs away in frustration.
These Amazon cosplay wigs were cheap, but tossing a few cheap wigs away a month added up. And throwing things away is not really my style, it bothered me a lot. So I decided to try wearing short wigs. This worked in one sense: the wigs didn't tangle. The downside was I absolutely hated them. So as sometimes happens, in my efforts to save a few dollars, I ended up spending much more and making myself miserable in the process.
Perhaps a bit unfairly, as a result of all these bad experiences I do not recommend Amazon as a good source of wigs. If you have a local costume/wig shop, I think you could end up having a very good experience. For one thing, you will be sure to find a wig that fits. You will also want to purchase wigs with high-temperature resistant synthetics. Not only is this important if you want to style it, it will be important down the line when you need to rejuvenate the wig. But more on this in a later section. Meanwhile, if you want to buy online, I have some excellent suggestions for you.
The Adventure Begins
My purchase of the long blond wig from a local makeup/costume shop was just pure luck. I bought it because I needed such a wig to satisfy Dom de Luxury's maid fantasy. This wig, combined with finally understanding how to take care of wigs, resulted in my first happy wig experience. A bit more than a year later, this remains one of my favorite wigs to wear. The store has discontinued their wig lines, but it is made by 'Incognito'. It's their "Ecstasy" wig in Platinum. Here's a photo: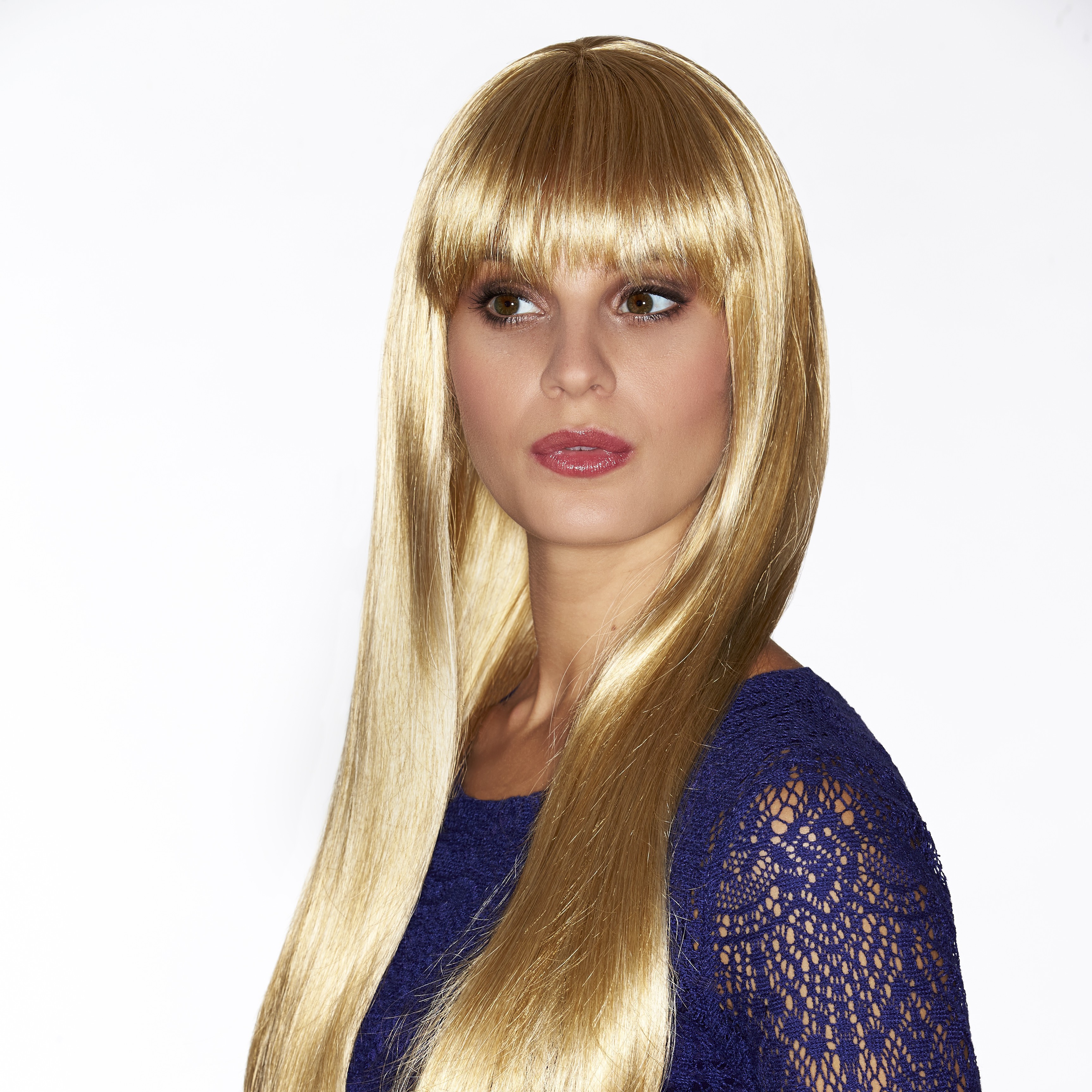 this is how the wig looked originally. It doesn't look the same in my gallery photos because I modified it by adding hair in different colors and cutting the bangs. This is a hard front wig and it would be an excellent first wig for anyone. Incognito doesn't sell directly to the public, but you can see their products on their website: Incognito Ecstasy Wig. I spent about $35 dollars for this wig, which I think is a reasonable price for a hard front wig with this amount of hair and design. I tried to find an alternative source for it, but the prices I found were outrageous. Many stores are selling this for $70, $80, $90 or more. These are the sort of prices you would expect to pay for an excellent quality lace front wig, and is an outrageous price for this wig. I can't endorse any store selling this wig for that price, so I'm sorry that I can't recommend a place to buy it. As a general rule, I would not pay more than around $40 for a good quality hard front wig. If there are special features, like extra long hair, extra hair or special coloring, I might go to $50 or $60.
There is a really great company, Arda Wigs, which sells amazing wigs. They are probably the premiere cosplay wig company in the U.S. and have a great selection of hard front wigs for around $40, a very reasonable and fair price. They also sell lace front wigs for around $100. I don't currently own an Arda wig, but I am considering them for my next purchase. I need a black wig for some looks, and I'm thinking it's time to broaden my vendor base. I will update you here if I buy one. I've seen their products and I am very impressed. I also know some wig makers who use these wigs as the basis for some of their own work and I believe the same factory that makes their wigs also made the ones I currently own. I recommend them highly as a source for great wigs of all types. You can find their website here.
Shopping for Lace Front Wigs
In addition to the Incognito wig, I also own three lace fronts. I bought all of these from Bobbie Pinz. I am a big fan of both him and his shop. He's a wig maker as well as a seller. His prices are amazing, he's incredibly fair and honest, and the product quality is great. He often has sales and he offers discounts for repeat customers. He has a great love and passion for what he does and is very generous in sharing his wig knowledge with others. Unfortunately, he only carries lace front wigs, so you won't be able to get a hard front wig from him.
I bought a Holiday T33-130 wig from him. Here's a photo: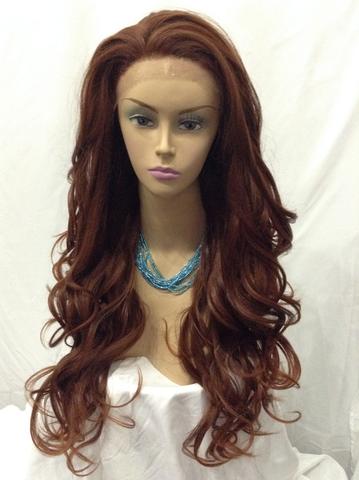 This is what he calls his "Standard Wig" line. It has a 'hard lace" front. The lace is a bit dark, but it works OK for me since I like a dark contour along the top of my forehead. This wig has a side part - the lace is extended back on one side of the wig so it can have a realistic part. It's a beautiful wig and for $50 would make a beautiful first lace front wig. I wish it had a bit more hair, but what do you want for $50?
I also have a Sarah in bright red from the Bobbie Pinz shop.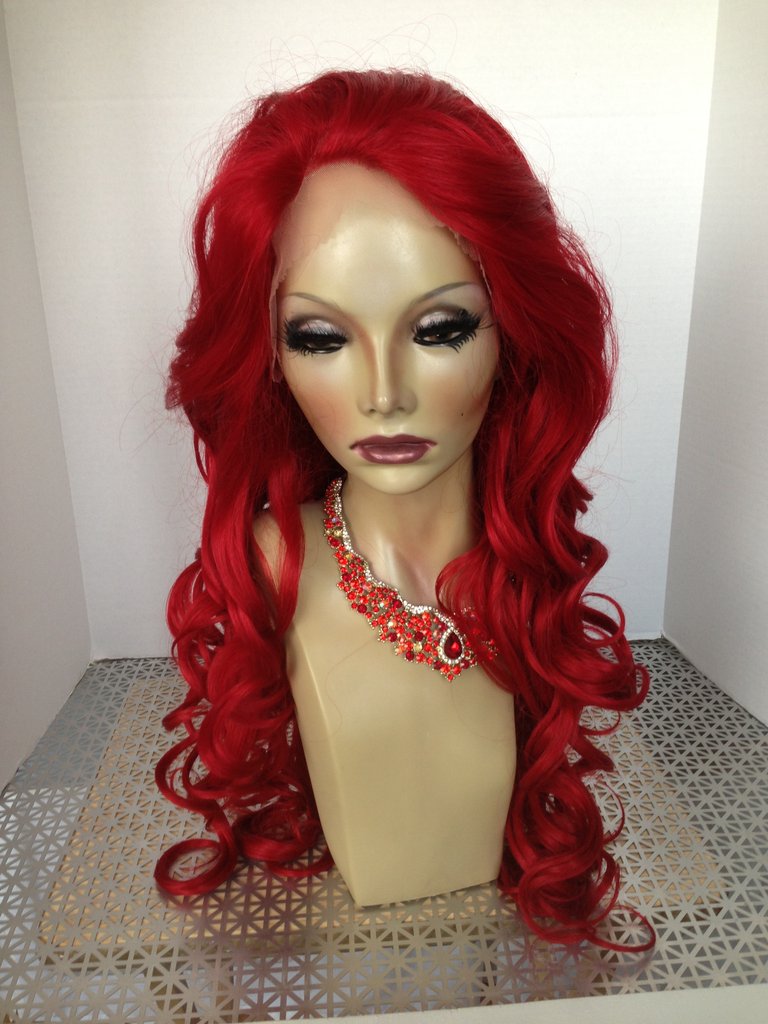 This is from his "Deluxe" line of wigs. I love the color and the softness of the hair. The lace is a light color, which you can easily make darker if you wish, and the hairline is extremely natural. It is described as having 2 inches of parting space in front, but I think this is a bit much. It is closer to 1 inch. But a truly beautiful wig and a lot of fun to wear. His deluxe wigs sell for $100.
Finally, I also have a Doris 613 wig, also from his Deluxe line of wigs.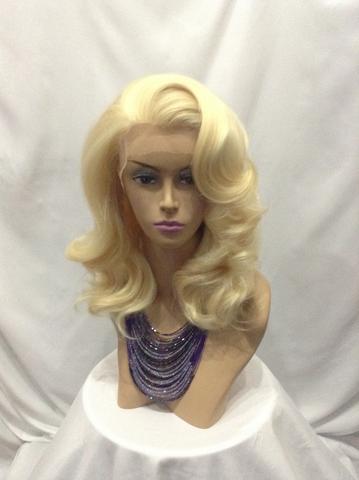 I bought this to complete the "Marilyn" assignment from Dom de Luxury's "Max Bimbo" list. This has been a wonderful wig to own. It has lovely soft hair, and a lot of it. It's been a lot of fun to own a Marilyn style wig. The lace is great and it has about an inch of parting space (not 2 inches, as described on the website.) I love all of these wigs and can't recommend his shop highly enough.
For those of you outside the U.S.A., both Bobbie Pinz and Arda Wigs ship internationally. And there are fine wig makers in other countries. I have heard wonderful things about Webster Wigs in England, but have no personal experience with them. Wherever you buy your wigs from, I hope this has given you some idea of what to look for and what a fair price for the wig you are interested in might be.
Thanks for reading and if you have something nice to say or a good idea or suggestion, feel free to message me on Twitter