I've always enjoyed making things with my hands. Turning a formless block of wood, silicon or clay into something exciting and cool is one of the great pleasures of life. So it should be no surprise that sewing has been on my "things-to-learn" list, especially since my transformation into Pammy.
I've managed to make a couple of things. I made the big, pink hair bow and the faux fur stole you can see in some of my gallery photos. But I was fumbling around and having fun with absolutely no idea what I was doing when I made these.
Acquiring real sewing skills has suddenly become a more urgent need in my life. SheDaddy's new training list (to be posted after I master it to her satisfaction) has colossal clothing requirements. It contains new styles, new fashions, in short, a variety of challenging and exciting tasks involving clothing.
Why Sew?
If I've learned one thing about clothes, it is that "fit" is absolutely everything. It doesn't matter how good it looks on the rack, if it doesn't fit you, it will look like crap. The better the fit, the better you will look. Getting the fit exactly right is a problem for all girls but especially for gender fluid girls. Even my favorite dresses don't fit perfectly. I have always thought, "If I only I knew how to do clothing alterations, or even better, make my own, what a great thing that would be!" Now that SheDaddy has "turned up the heat" in the clothing department, it seems like a good time to learn something about this. (And we all know that "turning up the heat" is something our SheDaddy loves to do to us.) Since I have some enforced downtime as I recover from my surgery, I decided to tackle sewing.
Learning to Sew.
Learning to sew turned out to be a real problem. My schedule doesn't allow me to take regular classes. That leaves private lessons or books. Finding a good teacher is hard. Meanwhile, the books on sewing fall into two categories:
Books that are too advanced to be useful to a beginner like me but will be someday so they are good to own.
Books for beginners like me which are badly written or too disorganized to be useful to a beginner like me. These are a waste of money.
After going through several, completely hopeless books for the absolute beginner, I finally found one that has worked for me. It's called "Sewing for Dummies" by Jan Saunders Maresh. It is not perfect, but it is the only book that has presented sewing to me in a way that makes sense. And, an important plus, the sewing projects she presents help you learn basic skills about sewing. I feel that when I finish this book, I will have a decent skill set.
Projects
You learn to sew by sewing. She has some great projects. I'll show you how I did and let you know if I had any problems (and how I solved them). Hopefully, this will speed you on your way to sewing mastery. I have to admit that I did not do the very first project in her book, which is a pillow made from an old shirt (Chapter 5). I had enough minimal experience sewing that I didn't think I would learn anything from this project. But if you have never sewed anything before, definitely don't skip it.
Fringed Throw
In Chapter 6, she describes a "fringed throw" project. This project is an exercise in measuring, cutting, pin-marking and tying knots. There is an optional appliqué (which I did). Here's a photo of how mine turned out: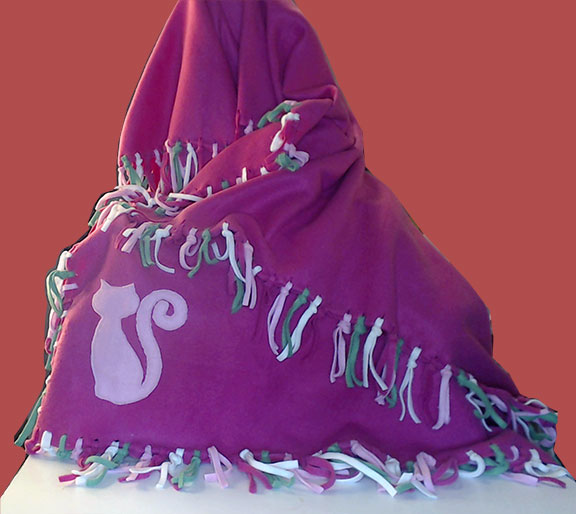 I'm pretty happy with the result. For this project, I invested in a rotary cutter, transparent ruler, and a cutting mat. She calls these "optional accessories" in her "Sewing Kit" section, but I can't imagine completing this project without them. The amount of cutting in this project is huge, and I can't imagine doing it with just scissors. I highly recommend spending the few dollars you need to get a good rotary cutter, self-healing mat, and transparent ruler. Once you use them, you will see how great they are.
Cutting the huge pieces of cloth required for this project is challenging and she doesn't give you any guidance on how to do it. Looking around, I couldn't find much advice on this anywhere. I guess it is always hard to do. I ended up folding the cloth to fit on my cutting mat (do this carefully) before cutting it. I also folded and stacked the cloth for each color of fringe so I could cut multiple strips of the same color at once. Speaking of the fringe strips, you might have noticed that I have them on all four sides. She only does two sides, which I would have done if I had noticed the photo she gave in the color section. All I can say is that I got a lot of practice tying that knot. I'm happy with the four-sided fringe, but it took me a lot longer to finish.
The Appliqué
An optional part of the project is the appliqué. It seems like a lot to do, but I'm happy I decided to go forward with it. I free-handed a drawing of a cat. (Yes, I have a cat.) She tells you to get an embroidery foot to do this part, which I highly recommend. The stack of material you need to sew is so thick that it doesn't fit very well underneath the standard foot. At first, I didn't think my machine (a Brother Sewing Machine) had an embroidery foot, but then I noticed that the quilting foot looked the same as the embroidery foot. What you want is a foot that has a shaft with a "spring." The spring allows the foot to move up and down with the varying thickness of the cloth.
You will sew through two thicknesses of cloth, and the paper on top. As I did that, I felt the machine was fighting with me. The feed dogs wanted to take the cloth in a different direction than my cat drawing required. A visit to my sewing machine's manual took me to the "quilting" section, where they tell you how to lower the feed dogs (a simple switch position in the back of the machine). After that, all went well. The final finishing steps (tearing off the paper and cutting out the appliqué) were easy. I found tweezers to be essential for getting all the paper out from under the stitches, and small scissors to be handy for the small twists and turns of the cat's tail.
Ruffled Apron
The next project is from Chapter 8. You make an apron out of a denim mini-skirt that you can find for a couple of dollars in a thrift shop. This project was is very worth doing, as it teaches lots of basic sewing techniques. It's also a lot of fun. Here's a photo of how mine turned out: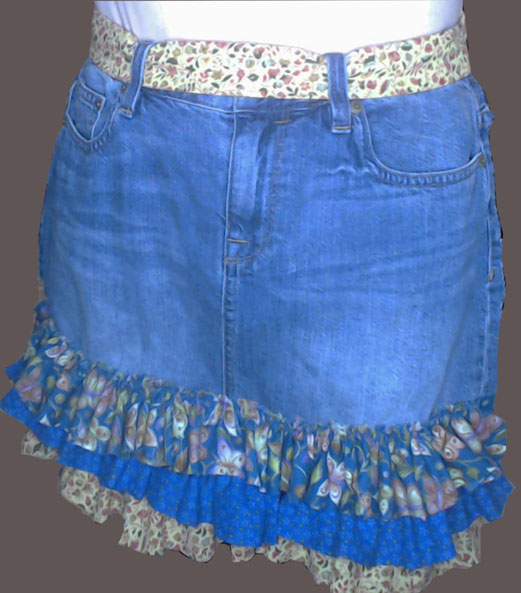 I'm reasonably happy with how it turned out. If I had to do it again, I think I would pin it to the skirt more carefully, as it looks slightly uneven to me. But it has charm. I don't need an apron, so I sized it for a friend as a gift.
I had some problems with the ruffles. The method she gave in the book didn't work for me. Pinning the strip to be ruffled to the dress and then pulling on the bobbin threads resulted in broken bobbin threads and no ruffles. I had to use a seam ripper to take out the threads and redo them. That happened a few times which is a pain. Figure 8-5 looks like the ruffles are only pinned at the ends. Based on this photo, I tried a modified method which worked well. If you're having the same problem, give this a try:
Pin the skirt and the cloth strip in fourths, as she describes in the book. Don't pin the ends. Just the middle and 1/4th of the way in from each side. I found that as I worked on the ruffles, the pins had a tendency to come out, so I also suggest marking them with chalk so you can replace the pins in the same place.
Start the ruffles from the left, by pulling on the bobbin threads with the left hand. Be gentle! The instant the cloth begins to stick, move the ruffle towards the middle pin, sliding it along the thread. As you get more ruffles, it gets easier as the holes and stitches open up a bit.
Concentrate on getting the "second fourth" - the part from the first pin on the left to the middle - right. Periodically hold it up to the pins on the skirt to check the length. When the ruffles make the distance between the pins on the strip the same as the pins on the skirt, pin the middle and first pin to the skirt. Even out the ruffles as needed.
Repeat this for the left-most section, pining it to the skirt when it is the proper length.
Now repeat for the sections on the right.
When the strip is finished and pinned to the skirt, you can sew it permanently to the skirt. She doesn't mention this, but sewing tends to push the ruffles together and make them uneven Hold your hand down across the ruffles in front of the foot to keep this from happening.
That's it. Enjoy your new apron.
So far, I'm having a ball learning this new skill, and I'm excited to get good enough at it to make some nice clothes for myself and improve the ones I buy. As always, if you're going down a similar path and want to talk about it, feel free to message me on Twitter