At a Glance:
Over-all Rating:
Cost: $14.95
Manufacturer: BB Brotrade
Purchsed from: Amazon.com
I am continuing my organizing binge. Today it's jewelry. Here's what I want in a jewelry organizer:
Sturdy
Easy to see what I have
Easy to find what I want
Space efficient
All of the traditional storage solutions for jewelry fail me. Jewelry boxes don't work for me because the people who design jewelry boxes don't share my jewelry taste. That means my stuff doesn't fit in their boxes. And since I favor huge, hanging earrings, I end up with a tangled mess.
Jewelry trees are lovely, but let's face it, they are meant for that one gorgeous piece your lover gave you. I get that; it makes you feel great when you look at it right before you fall asleep, but as far as being a practical storage solution? It just isn't.
I tried a hanging jewelry organizer a few years ago. I wasn't expecting much, but to my surprise, this solution is pretty close to perfect, at least for me. It hangs in my closet, I can see what I have, and it's easy to pull stuff out. It's also been durable.
But not all hanging jewelry organizers are created equal. My first hanging organizer was from Umbra. Umbra manufacturers lots of other organizing solutions, and you can get their products at places like The Container Store. It has 33 pockets on one side and 18-velcro hooks (for necklaces) on the other. It has held up very well. But it has problems:
Not enough pockets
All the pockets are the same size
All the pockets are too small.
It's black, and the jewelry doesn't show up well.
Since there are too few pockets, I ended up stuffing too many pieces into each one. And the pocket size is too small for most of the jewelry I love. So basically, after I lived with it for a while, I discovered I had a vertical, hanging jewelry box. Not happy

.

So I ordered a new one, and I love it so far! Here's how it looked before I stuck it in my closet. Front: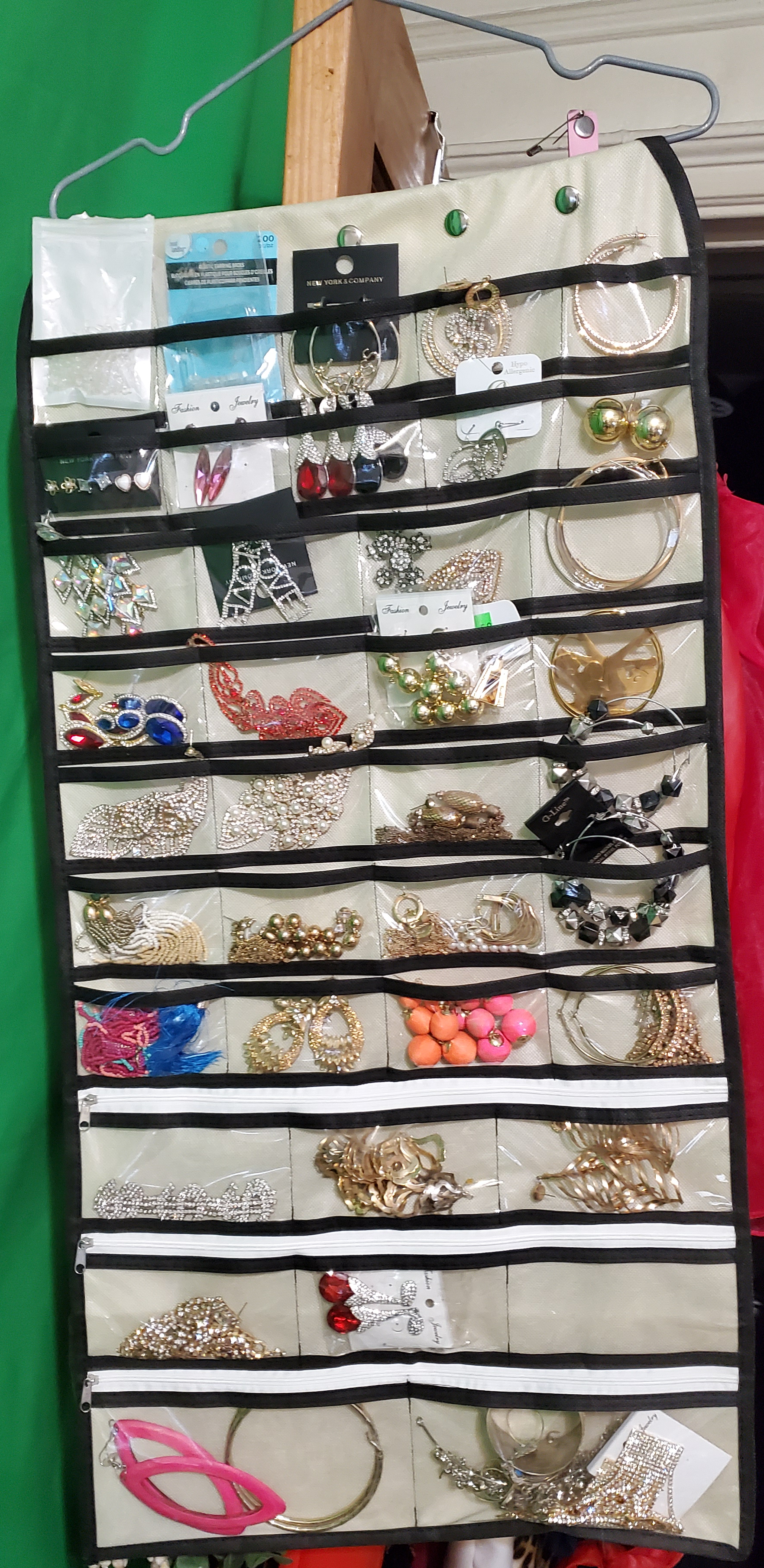 And back: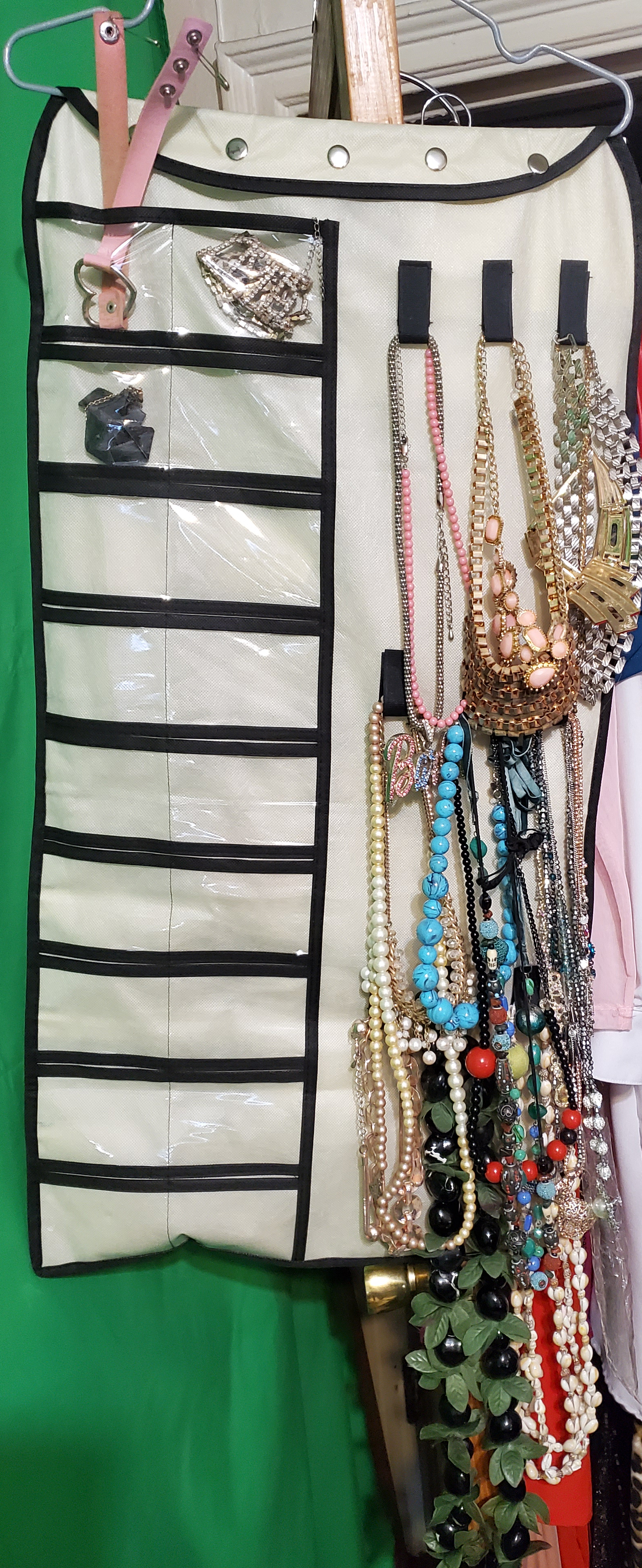 There are different versions with numbers of pockets, colors, etc. I ordered one With 56-pockets. Now I have some growing room, and for the first time in years, I can see everything I own! I love that they have included several medium and large pockets. The larger pockets have zippers, which is a nice touch.
Stuff I don't like or worry about.
The only thing I don't like so far is the hanger. The Umbra organizer had a swivel head hanger. That let me flip from side-to-side without taking it off its hook. The BB Brotrade hanger has a rigid hanger. With all the necklaces I own hanging from it, it is pretty heavy. Removing it from the hook means a greater risk of having an accident, ending up with piles of necklaces on the floor. It happens.
I do have some concerns about the durability of this product. I bought it on Amazon, where the reviews of its durability were mixed. I will say that the zippers seem to be pretty low-end, and I would not be surprised to see them fail. I can live with failing zippers, but if the pockets tear or the backing material rips, it's break-up time!
But at the moment, it's love at first sight! I'll update this review in a few months to let you know how it's going. Or sooner, if something breaks.
I hope you enjoyed this. If you have a Jewelry Organizer solution you love, let me know about it. I am always interested in something better. To do that, you can message me on Twitter