At a Glance:
Over-all Rating:
Cost: $55.00
Manufacturer: The Brushworks
Purchsed from: A local makeup store in my area.
The organizing binge continues.
I have been storing my makeup brushes in assorted pretty cups I got from dollar stores. But my brush collection has grown, and this solution has become unwieldy. In particular, my purchase of the entire set of ESUM brushes (here's my review) has made a new solution imperative.
One solution is to simply get larger cups. Another is to try an entirely different approach. I saw many positive reviews of the Brushworks "Artist Easel Pro." This product is a brush book that can transform itself into an easel! It is priced competitively with higher-end brush books, and the easel feature is appealing. So I decided to try it.
The Good News
I was able to fit most of the brushes I wanted into the Artist Easel Pro and as far as doubling as a book/easel, it works as advertised. When acting as a brush book, it has a vertical hinge, which you use to close the book. The standard perimeter zipper seals it.
But there is also a horizontal hinge. Once the book is opened flat, you can bend the book's top backward and down to form an upside-down "V" with the front of the book. Snaps on the left and right fasten the front and back together. The resulting easel is surprisingly stable.
Here's a photo of the closed book: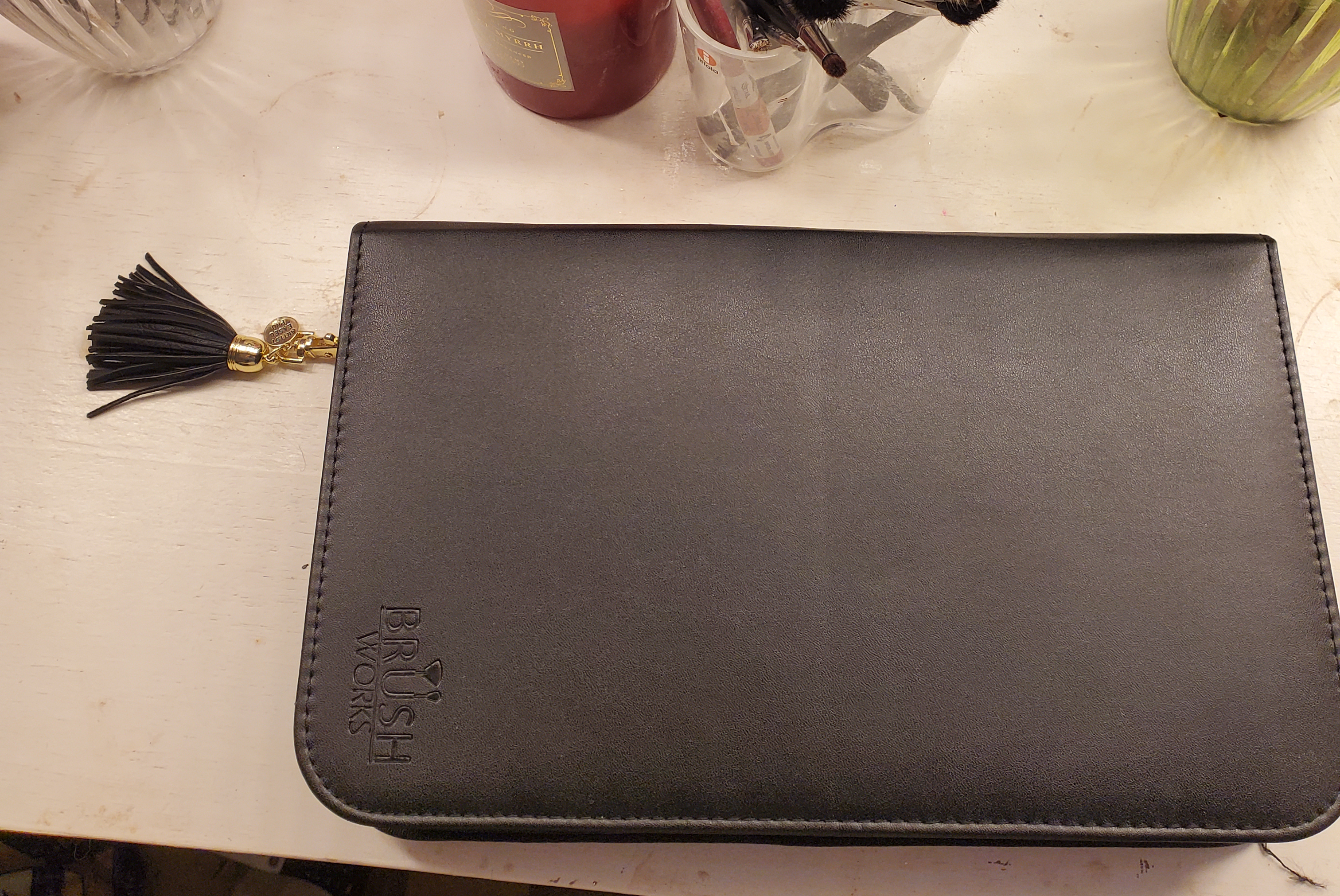 Here it is open: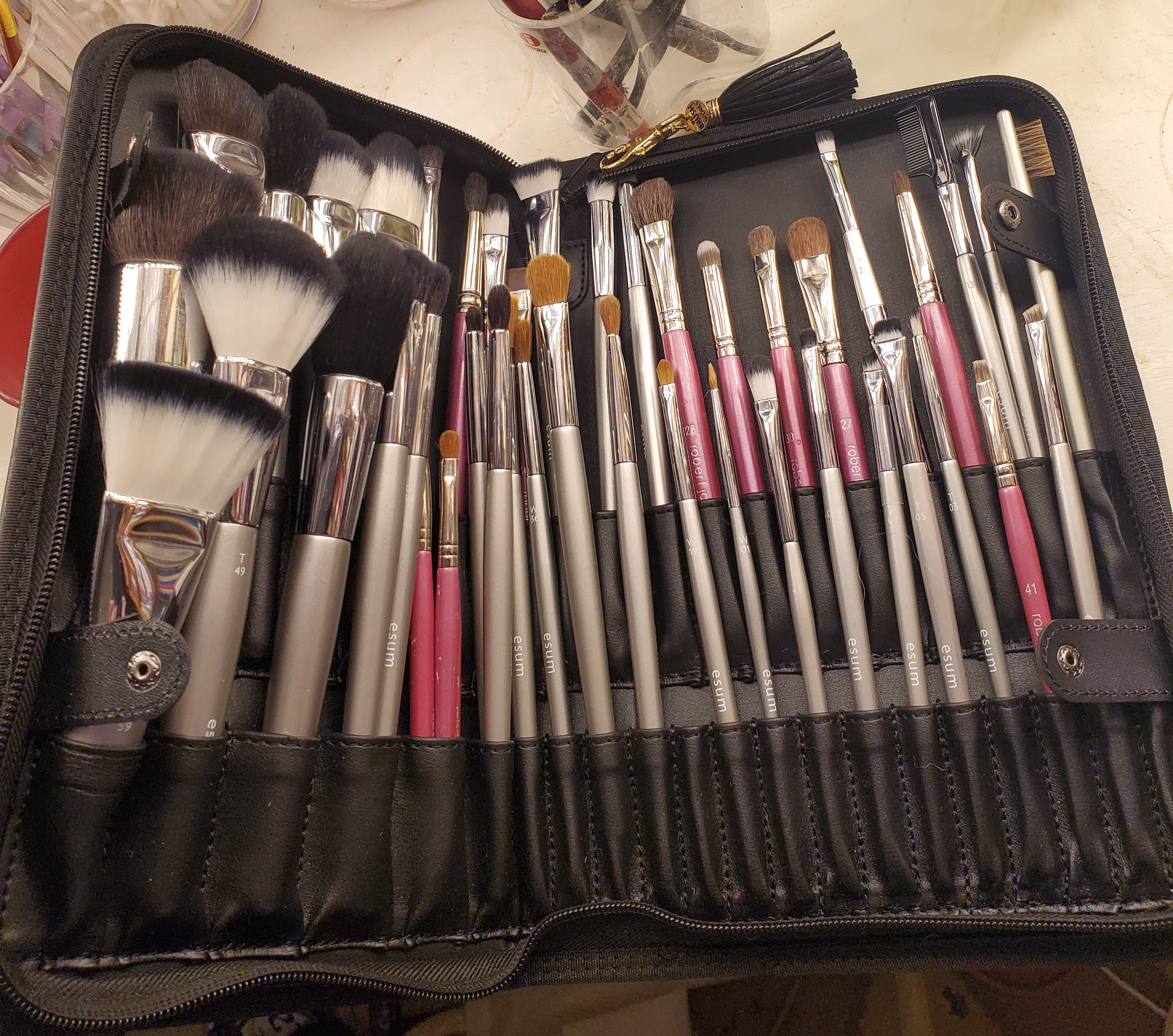 You can see the four snaps that are used to fasten front to back in "easel" mode: two on the left and two on the right.
And here it is in easel formation: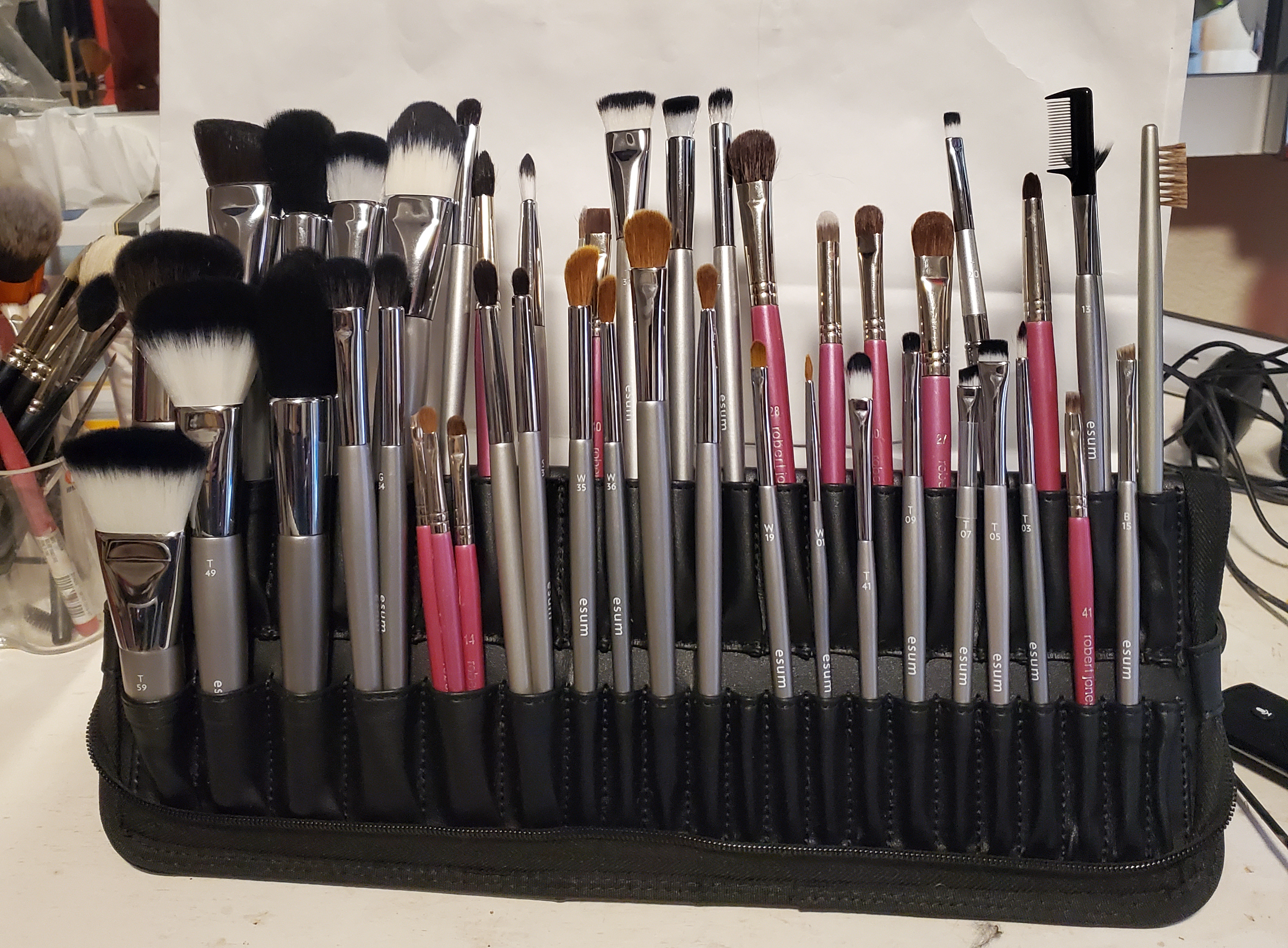 The Not So Good News
The bad news is that not all my brushes fit. Unlike most brush books, which use elastic straps, the Artist Easel Pro has preset pockets. Perhaps that is necessary to support the easel function, but they should have added a few larger pockets. The easel is also a bit short for some of my brushes - I must store the long brushes in the bottom row of pockets, or the easel won't close. Unfortunately, the bottom row pockets are a bit too small for some of the longer brushes.
Ordinarily, I iwould have returned the product, but that was not an option due to Covid-19. So I used a seam ripper to open up a couple of the pockets. This made them large enough to hold the larger brushes. Judicious arrangement of the other brushes solved my length problem.
If you follow this approach, you will also need to reinforce the seams you opened with the ripper. I glued a small piece of fake leather on them.
SUMMING IT UP
It's a good product, and it is innovative. If the designers had built in more flexibility, it would be close to perfect. But it is not. No surprise here - how many organizers have we seen the fit this pattern? They all do. Bottom line: if you can't fit your brushes into it, it's basically a failure. That's how close success and failure are in the brush world, folks.
As for as I am concerned, with the modifications I made to it, I can live with it, for the moment. Down the road, look for a DIY version of this product. It will fit whatever brushes you own and it will probably be cheaper. Not sure when I will get to it, but stay tuned.
If you have brushes that will fit, this is a great product. If you don't, be prepared to make some modifications. Or make sure you can return it to the store you bought it from, if you need to.
I hope you enjoyed this. Always interested in your thoughts. What do you like in brush storage/accessiility? Let me hear about it. To do that, you can message me on Twitter